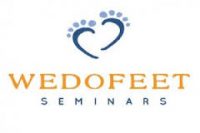 Becoming a Foot Zone Practitioner can be a life changing and rewarding experience as you help others find balance in their mental, emotional, physical, and spiritual aspects of life.  Whether you're interested in learning new skills to serve your friends or family or building a holistic healing practice to bring in an income, Alicia can help you.  Utilizing her personal zoning experience and the We Do Feet Seminars syllabus, she can help you can begin to build a solid foundation on your journey as a Foot Zone Practitioner.
Classes will be held two consecutive days a month for a period of nine months. Beyond learning the Foot Zone modality of healing, the course includes a variety of subjects including Anatomy, Physiology, Energy, Chakras, Personal development, Business development, Essential Oils education, Nutrition, and more!  The course cost is $3,600 to be paid via cash, check, or credit card, $300 discount available when course is paid in full before Class 1. Customizable payment plans are available if needs be. Start dates and class times vary depending up the student demand.
Please feel free to reach out via email or phone if you'd like to discuss if certification is right for you!